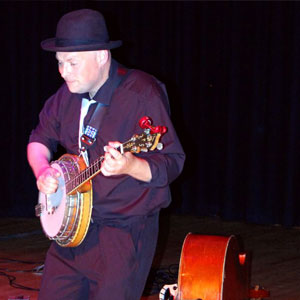 The Corn Exchange in Dorchester sprouted American roots with a visit from Stompin' Dave Allen and his Bluegrass Band, offering a packed room a rootin'-tootin' good time.
The musician, a West Dorset man who has a stellar reputation on the local and UK music scene, began the evening on stage by himself. He came out slowly, without speaking, and launched straight into an instrumental number. Before long it wasn't just the banjo going as Dave Allen certainly earned his nickname with some impressive tap moves. Throughout each song he kept in perfect time with the music, even giving some crowd-pleasing moves throughout, like playing his banjo behind his head or between his legs – again, he never missed a beat.
This was first time I had seen Stompin' Dave I wasn't sure what to expect but I was astounded when I heard his singing voice. The Deep South twang he had was spot on, singing the lyrics with some actual feeling. As someone who was already a fan of this genre I was hoping for something that I would enjoy not just a poor West Country imitation – this is exactly what I got with Stompin' Dave. Yeehaw!
When the band hit the stage Dave was flanked by a fiddle, a double bass, and a guitar, looking very much the part. My mind drifted to a little shack in Tennessee, somewhere I could be enjoying a Jack Daniels on ice, sat on a hay bale with a group of guys jamming through the night.
I don't think I was the only one either. The crowd were clearly already big Stompin' Dave fans – and any that weren't to begin with certainly seemed to leave as fans. By the time the music started the audience had made trips to the bar and seemed well-oiled and jolly, perfect for a good ol' American hoedown. It didn't take Dave and the band long before they got the audience involved with some simple refrains to repeat, and as the night went on the requests from the crowd came freely and loudly.
The band accompanying Stompin' Dave hasn't been his backing group for long but you wouldn't know it. The foursome had a relaxing rapport together, it seemed very much to be a group having some fun, just playing some music. Joe Buirski, Jerry Bloom and Ally McAuley combine well with their frontman to hit the spot on many bluegrass and hillbilly standards.
My one regret of the night was not having enough cash on me to buy a CD, which were all very reasonably priced.
Stompin' Dave is a Bluegrass fan's dream but trying to keep up with those fingers, and occasionally feet, can be a photographer's nightmare. Highly recommended, seeing a solo Stompin' Dave gig or one with his band is a relaxing and enjoyable experience. He is a fantastic performer while playing in a band or when flying solo so do try and catch him, y'all won't regret it.
Words and pictures by Benjamin Parker.