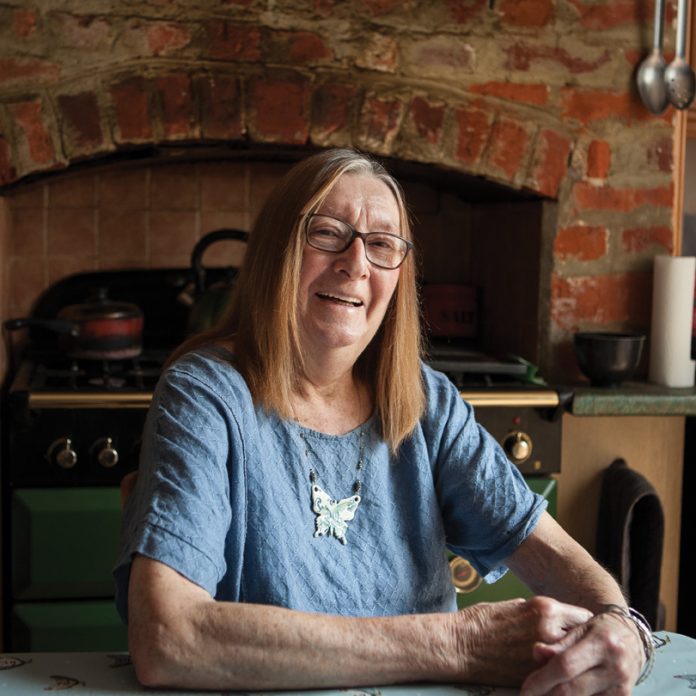 Mother and Father lived on a farm at Holloways Farm, Halstock, and I was born nearby in Frampton. Both my Father and Grandfather worked on the same farm, although the thing I always remember is my Grandfather with the Shire horses. He used to put me up on them when he was walking them back to the farm. I was only about 3 years old, but then I can remember turning hay with the horses aged 10. Health and Safety didn't come into it then. And when I left school at 14 the domestic science teacher said, "Valerie, you should be a cook, you're born to it". I said, "Oh yeah", and I would walk across the fields from Corscombe to West Chelborough because Mr Brook, he still had Shire horses there. I worked for him for about 3 years, then I was working for the Hon. Mrs Beauville at Princes Place, near Melbury Bubb. That was with hunters, so it was only winter time, and the summers I worked at Osmington Mills.
Christmas Eve 1962, I was working with horses again on Exmoor, where they filmed Lorna Doone. I'd been home, and was trying to get back to Exmoor, and we got stuck in the snow. It was the beginning of the bad winter. They sent a Landrover out and pulled us out. I only worked there a year, and then I was mainly working as a cook in care homes, which I loved. About 1975 I got a job on Lundy Island, catering at the small hotel that's there. It's a lovely place. The visitors all came for the seabirds and seals, and in those days it was all year round, and quite primitive. It was then I had my son, Tony.
My Auntie, back in the '30s, married a man called Jimmy Doyle, and they took over the Quiet Woman at Halstock. I think the time I spent in that pub really shaped me, and it's fair to say I've always wanted a pub with a piano. Even when I was quite young, I'd go in there just for the piano music. In fact I was in there whenever I could, mainly for the sing-songs round the piano, and that's why I've always loved piano music, especially that boogie-woogie, and ragtime. My Auntie and Uncle had the pub 20 years, from 1939 to 1959, and I remember people coming to the Quiet Woman just for the music, even busloads up from Weymouth at the weekend. This was before pubs had bands playing, before rock and roll took off really, but there were local dances and the like.
Another uncle had the bakery in Halstock. He'd gone there to work after he left school, then went away to war, and went back there after, buying the bakery in the '50s sometime. That's gone now, and both pubs that were in Halstock are gone too.
Some years after I finished the job at Lundy Island, I started working for the police. I cooked at the police training centre at Chantmarle for 20 years. It's a beautiful place. The name comes from the old French, meaning "the Song of the Blackbird". There were swimming pools, and tennis courts, it would have made a lovely holiday camp. There were about 150 police students, all male originally, and then they built facilities for women. The last 3 years I was there, I was working over 80 hours a week because in the evenings I ran the bar there for the students. My day job was with the Home Office, but the food at the bar was mine, only simple fare, but I made a lot of money doing that. And I was preparing the food in the cellar, something else Health and Safety didn't know about, but nobody died as a result. I made a lot of friends there over the years, and they invited myself and my son to a Pass-Out lunch and ball which was lovely. I'm still in touch with some of them.
After Chantmarle, I worked at a private school at Chilton Cantelo. They were lovely people, and I worked there 3 years, cooking. For my 40th birthday I wanted a band, and my friend Eva Harvey put me in touch with some friends of hers, who turned out to be called Diz and the Doormen. I'd been trying to book a jazz band, so I didn't know what they were going to be like, but I'd booked the hall at Evershot, done the bread and cheese, and they played just brilliantly, went down a storm. That's how Eva and I started, putting on all these bands at Evershot, Eype's Mouth Hotel, and the Bell Inn at Ash. There are still great bands playing at Evershot after all these years. Diz and the Doormen played for my 80th too.
I'd been looking for a pub to buy all the time I was at Chantmarle, and at Chilton Cantelo. In 1996, I saw the Hope and Anchor advertised in a magazine, so I phoned up about it. I loved Bridport, I'd been coming here for years with the Harveys. The agents told me it had gone, but a little while later it was back on the market. When we looked round, one of the things that sold it to me was the most beautiful fireplace upstairs in the Assembly Rooms. It's still there. Anyway, in the end I made an offer of £50,000 for it, which was accepted, probably because it was the Friday afternoon and they wanted a deal before the weekend. I was 56, and my dream of having a pub with a piano had come true. Soon after that I bought the cottage next to the pub for £20,000.
There were darts teams at the pub, and regulars who had been going in there for years already, and still are. It was a free house, so I could buy beer anywhere, which helped, and the cider, which I'm very fond of myself. This part of the world we've got all these wonderful ciders, and you still get people want Blackthorn. I'd only put food on for darts nights, but on New Year's Eve I'd lay on some food. Some of the pubs were charging people to go in on New Year's Eve, and I think that's so wrong. To be honest though, I'd done enough cooking.
It was the live music which drew in a lot of custom; the clientele were a really mixed bunch of people as a result, and somehow that really helped. We had bikers, holiday makers, builders, all sorts, and mostly everyone got on. Although, any publican says they've never had any trouble's not telling the truth. I used to get them to help shift some barrels if it looked like trouble was brewing, and that generally worked. We had some lovely bands from all over the place; a band from New Mexico, I'm still getting Christmas cards from them, as well as the many more local musicians. And because I love piano, Ben Waters would play. I first saw him when he was about 14; he asked Diz if he could play at one of his gigs, and Diz said, "Feel free". Then he said, "Why don't you sing?", and Ben said "I can't". So Diz says "well, neither can I, but I still make a living from it".
About the same time as selling the pub I bought a bit of land, only two and a half acres, at Corscombe. I don't really know what made me do it. But I've got some solar panels there, and I'm having a small wind turbine put there. I've got two sheep, which the vet asked me if he could put there about 10 years ago, and we've got one goat left out there. We go every day—it's pretty rough land, it's rather wet, but it's my bit of Dorset.
I've known Vern for years, from pubs around Yeovil, and then we re-met at the Bell Inn at Ash. We share a love of music, although he's more into jazz, and he's the one who knows all the details, like who recorded what with who else, and when. But he's been very supportive. And my son, Tony, he's got his own place here in Bridport; he's brilliant with computers and is studying hard to qualify for a job in that world. He's my best friend, and gets me out of a lot of trouble. He's had a lot to put up with, what with me working all over the place over the years, but I'm very proud of him. I also owe a lot to all the Bridport people I've made friends with over the years, and I'd like to say thanks to them.