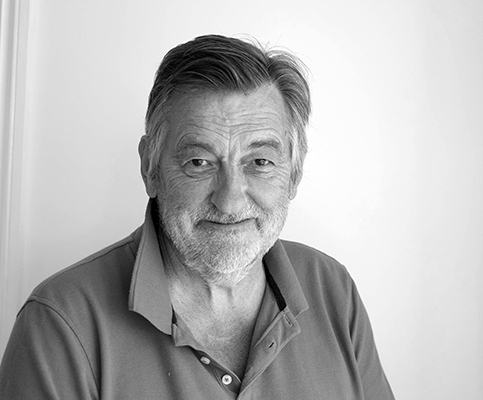 'My young mother was sent up to Aberdeen for me to be born in 1948, then came back to Hornchurch, Essex where I was adopted by Doris and Tom Paley. I grew up in Hornchurch but Doris died when I was just 13. Tom re-married within a year—we upped and moved sticks to Shadwell, the then old East End of London. This was a huge culture shock for me going from rural life to docks, bomb sites and street markets. My father's new wife had 10 brothers – all dockers operating in Wapping.
I left home at 16 and lived in a bedsit in Lewisham. I worked for Halifax Building Society as a clerk for about a year when one of the guys I worked with suggested we go to Iceland to be fishermen. We just needed to save £30 for the air fare. I did extra jobs and we got a flight to Reykjavik, booked in to the Salvation Army hostel and went to the docks to find jobs. But, to our horror, we found out we had to speak Icelandic, be 21 years old and belong to the Union. We faced a real conundrum; we only had enough money for a few days. In a café we got talking to the man behind the counter who told us about a building firm down the road. On the way down we decided we were both 21, experienced and with the Union. Later that afternoon we were dragged out on a lorry to a building site! We stayed for about 10 weeks; until we'd saved enough money for our flights back to the UK. It was a tremendous life experience at such a young age.
I came back to London and got a job as a trainee manager for a shoe shop in King's Road, Chelsea. In the late 60s this was the place to be. We didn't bat an eyelid when the likes of Sophia Loren, Twiggy or Mohamed Ali came through the door.
I met my first wife in the same shoe company, she was Swedish and we moved to an apartment above the shop where we had our son, Nicholas, in 1974. Our marriage ran into problems, my wife wanted to go back to Sweden. I suppose I knew what it was like not to have parents and didn't want to lose my son, so followed my wife to Malmo in Copenhagen. I was area manager of a shoe company there and learnt the language. But our marriage ended and I returned to England. My son was four years old by now; we had a good relationship and kept in regular contact.
In 1981 Nicholas told me his mother could trace her family back to the 1600s and asked how far I could trace mine back. All I could say was 1948. That set me thinking and after a long voyage of discovery, I found that my mother had always lived in Upminster, very near to where I grew up in Hornchurch. I found that I had a half-brother and a half-sister. Then it was the turn of looking for my father who I eventually discovered in Hednesford, Staffordshire. There I found three more half-sisters and three more half-brothers. So from growing up an only child I suddenly found myself with eight brothers and sisters.
In 1984, with a friend of mine, we decided to buy a weekend cottage in Beer in Devon—this opened up a whole new world for me—I met my wife Diane in Beer. In 1985 I sold my home in Camberley and together we bought a crumbling ruin in Axmouth. Diane has three daughters, Kate, Emma and Hannah, so it was all a bit frantic for a couple of years. We lived there for 17 years which is the longest I have ever stayed in one place. We joined the Parish Council, village hall committee, the local theatre group and such like. We had daughter number four, Charlotte, who was a twin. Her brother, Tom had spina bifida; he died at just three months old. We set up the Tom Paley appeal fund and became heavily involved in raising money for children's charities. I ran the London and New York Marathon, trekked across the Himalayas and cycled across northern parts of India. Last time I looked we'd raised over £40,000 for different children's charities.
Charlotte is now happily married to a farmer out at Cotleigh and is pregnant. Then there's daughter number five, Victoria, a chartered accountant, she has just bought her first house in Axminster. As for daughters one, two and three, Kate, Emma and Hannah are all settled and living with their partners and husbands in their own homes in Beer. Hannah has two lovely daughters – Maisie and Freyja.
At the age of 49 I was still driving all these stupid miles and Diane and I bought a 'greasy spoon' in Seaton which we turned into a wine bar—we called it Paleys. I was still working all over the country and would arrive home on a Friday evening and start cooking in the wine bar for the weekend. I did that for about five years. I wanted to build my own house so we bought a derelict farm building—Dulcis Farm, just outside Kilmington. I took early retirement, sold the wine bar—sold everything! I got a part-time job working with disabled people in Honiton—you soon realise how difficult it is for disabled people to get about in this day and age. It was eye opening. I spent three years helping them live in their own homes, within sheltered housing.
Then someone put an ad in front of me for a manager at the Citizens Advice Bureau (CAB) in Bridport. I applied and by some strange quirk of fate I got the job. There are 50-60 volunteers at CAB and there's a never ending stream of people waiting to volunteer and give back to the community. It's very humbling being responsible for these volunteers—retired solicitors, accountants, all highly intelligent people, and me leading them. The job has involved me unblocking toilets, redecorating, laying carpets and much more. Then there are the problems that come through the door and the vagaries of the benefit systems. There doesn't seem to be any person in the country who knows exactly how it all works. All credit to the government to try and revamp and improve the system. A proverbial little old lady came to the counter asking for a leaflet on what to do if someone dies—I brought her in for a chat and within a few minutes realised her husband had died. She had never written a cheque, never paid a bill, didn't know what an endowment policy was or anything. There are so many people like that—without the CAB you'd need somewhere for people to find out these sorts of things. I was there for about eight years and I have seen many things; sometimes people have to choose between eating or not—there are a number of food banks now in Bridport which helps tremendously.
Last year I decided to retire so we sold the house in Kilmington and went travelling. We moved into an apartment in Seaton. We have plans this autumn to go to South East Asia. We've bought an apartment in Lanzarote and are currently trying to learn Spanish. Luckily, all our children are now established and settled. Three of our daughters are pregnant; our son, who now teaches English in Stockholm, is coming over for the birth of the first one. So, all in all, we are one huge happy family—I couldn't ask for much more.'