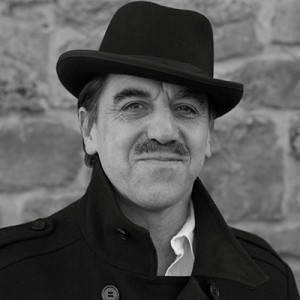 Robin Mills went to Symondsbury, Dorset, to meet Harry Harrison. This is his story.
"I may not look like it, but I was born and brought up a Dorset lad. I would have been born in Bridport, but because I was one of a twin my mother had to go to Portwey Hospital, and that was where I arrived, in 1960. My great grandparents are buried outside Eype Church door. My grandparents were called Legg: my mother, also a twin, was a Hounsell, a well-known Bridport name. I think there were 11 on the Legg side, and 7 Hounsells, so I've got lots of second cousins.
My father died when I was only 18 months old, so I have no memories of him. I have two older sisters Brenda and Margaret, and there's my twin sister Linda and me, who mum described as a gift from heaven because we gave her a reason to carry on after the loss of my father. They'd met during the war, when as a Royal Marine he was stationed at what was the Bonville Hotel, now the Eype's Mouth. My mother had an older sister who was a GI bride and went to live in Texas in a town called Beaumont. My grandfather, William Hounsell, was a builder, and along with my father and uncle built Beaumont Avenue on Coneygar Hill in Bridport, named after the town in Texas where my aunt had gone to live.
We grew up at Sunny Bank in North Allington. Mum was short of money but despite her hardship we were never short of love and I had a very happy childhood. When I tell my daughters how we shared an outside toilet in the garden with the neighbours, they find it a bit shocking. We didn't know any different so we didn't think anything of it. We were dressed in hand-me-downs and it wasn't a problem; I think people expect too much these days. Mother's widow's pension was very small, but we had a bit of help from the family and we got by. I had lots of freedom as a boy, playing up Allington Hill with friends. It all seemed perfectly safe, everyone knew everyone else and we all looked out for one another.
I went to school at St Mary's, and then to Colfox. My name's actually Andrew, but because there were three Andrews in the class I got the nickname Harry. At Colfox I met Marilyn when I was late for a science lesson, and because there was nowhere else to sit, had to sit opposite her. She spent the lesson kicking me under the table, so I pulled off her shoes and tickled her feet and of course got into trouble for that. That was 1973, we were 13 years old, and we've known each other and been together ever since, which is 40 years now. We got engaged when we were 16 and married at 20. I may have held hands with another girl at primary school, but never really had another girlfriend. Marilyn was brought up in the country; her family's Dorset accent is stronger than mine and they reckon I'm a townie, so initially conversation was quite tricky. When aged 13 I first went to meet her she stood me up. We'd arranged to meet at Blue Bull crossroads, and she wasn't there, so I walked all the way to her house at Broadoak, getting attacked by dogs on the way. Her grandfather answered the door, and when I said I'd come to see Marilyn, he said, "You'd best come in then, boy". I think he recognised determination.
I enjoyed school, more the social side than anything else; I think I was probably the class clown. I loved sport, and creative work which involved making things, and also history, particularly stories of the war. I used to watch "The World at War", hoping I'd see my father on it as he was a marine—there were few photos of him at home and no videos then.
My uncle, Jack White, and Aunty Beryl had a plumbing business, and after school I went to work there, also attending Weymouth College to learn lead work. I worked at B J White's until 1983; then I started to help out Marilyn's father, John Creed, who owned Creeds the printers at Broadoak. My interest grew and I began work full-time later that year. There was a lot to learn but the job was varied and interesting and I enjoyed producing a quality finished product. I feel very lucky; my job has given me the chance to meet many interesting people as we serve all areas of business: leisure, charities, the arts, organisations and private clients. My journey to work each morning through the lane from Symondsbury to Broadoak sets me up for the day—I quite often see deer and other wildlife. Marilyn and I, and our daughters Catherine and Laura now run the business. Printing has changed dramatically over recent years with technology and the internet; small, individual print companies like ours are a rarity these days. We are fortunate to have Catherine and Laura who are enthusiastic, bright and creative and are taking the business forward with new technology. It's good to know that it will be in safe hands when Marilyn and I eventually retire! We also have an elder daughter Rachel, whose dedication to her studies and determination has paid off as she is now a French teacher and enjoying living in Bath.
Playing sport has been quite a part of my life. My uncle introduced me to golf when I was quite young. I was pretty good at one time, but I don't play so much these days. I got into football when I was about 20, played for Chideock; in fact I was captain, not because I was the best player, but more because I had the biggest mouth, which of course was good for encouragement purposes. Marilyn was involved with amateur dramatics, and I got roped in too and loved it, and then I joined Symondsbury Mummers. It's great fun; I play the part of St George. Being a Mummer means that as a member of the cast you know that if you make a mistake you're not going to get any help from the others. With new members we're a bit more lenient, but if you forget your lines you have to improvise and that's part of the act. We live by the sword and we die by the sword, which is what the audiences expect. Performances are November through to January, and that's because of the pagan origins, which were about the end of an old year and the beginning of the new, or death and resurrection. New Years Day at the Ilchester Arms, Symondsbury, is our big night, with an audience of maybe 100 plus. The story has been handed down over centuries, the current script rediscovered in Victorian times. The Symondsbury play is considered to be the most complete of its kind, and includes an English Mumming song. Marilyn and I have been involved with Symondsbury Players, Chideock Players, and Lyme Regis Operatic. I seem to get the ethnic roles, I don't know why (!), like Ali Hakim in Oklahoma, the Hungarian interpreter in My Fair Lady, and I've played the Italian with the dead chicken on his head in 'Allo 'Allo. Marilyn and I, Sue Hanger, and David Warren also perform a sketch as old Dorset folk putting the world to rights, basically we find out who's going to be attending, and then tear them to pieces. It seems to go down well!
Our family has long had connections with Symondsbury parish. We got married in Symondsbury church as did my ancestors in 1795! We've lived here since 1991; our house was originally a forge, situated at Sprake's corner, the name of the blacksmith. I'm proud to have been involved with lots of things happening in the area. It's a lovely village with some real characters and a real heart (the pub and the church both well supported). When the girls were at Symondsbury School we enjoyed helping out with fund raising. The school went through quite a tough time then but it's popular again now, and we made lots of good friends through the process of support.
There are lots of twins in my family; Mum was a twin, I have identical twin girls, and so does my twin Linda. My older sister Brenda has identical twin boys; then my cousin John's wife has twins. The next generation has not managed the twin thing yet—but watch this space!
We now have a wonderful grandson George who's just a year old. In my upbringing and later family life I've been the only man, having sisters when I was young, and my own children all being girls. So I look forward to spending more time with George and having a bit of male bonding. More football and less shopping!"