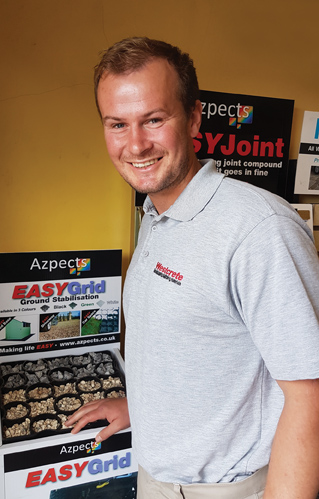 Joel Seward's Dad saw an advert in the paper for an office and yard assistant at Westcrete, the local firm in Axminster where he used to pick up all the landscaping materials to transform his garden in Smallridge. Knowing the family firm to be friendly and informative, he urged Joel to apply for the job. Successful in his application, he started at Westcrete in 2010. And for the last 5 years, Joel has been the General Assistant Manager; a job he loves.
Waking at 6.30am every morning to take his beloved rescue dog Rex out for a long walk in an effort to tire him out, Joel is at his desk by 8 am coffee in hand ready for whatever the day ahead brings. The firm supplies landscaping and building materials, as well as a range of aggregates and also deliver ready-mix concrete. Joel serves the customers that start to come through the door as soon as it opens, the trade customers tend to come in early so it's full on from the start.
With a background studying business studies and marketing Joel also looks after the website, marketing and any promotions the company is running. He performs stock checks, is the customer service department and updates social media. Learning from the owner Mike Thoennissen, Joel has a good grip on the products offered and how the business works but says there is always more to learn. One new introduction to the business Joel is particularly proud of is their photo competition. The best photograph of a garden completed by one of their landscape gardener customers is voted on, with the winner gracing the cover of Westcrete's price list for the year, often resulting in new business enquiries.
Lunch sees Joel out walking Rex, along the river next to the office. And as soon as work is over Joel is off home to change into his running gear. A member of Axe Valley Runners, Joel's health has been transformed since he joined a year ago, alongside taking on Rex at the same time. Now he takes Rex on a run with him most nights covering up to 50 miles a week. So, with the running combined with playing for Seaton Cricket Club, that's summer sorted for Joel this year.