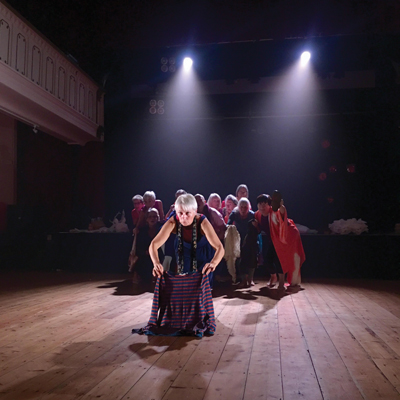 Anna Golding went from being a landscape architect to a community dance teacher. Margery Hookings meets her to find out more. Photographs by Pete Millson
The joy of dance is everywhere.Whether you're glued to Strictly, learning to tango at your local community centre or just throwing shapes on the dance floor to a bit of soul, the feeling that dance gives you is empowering, infectious and takes you to a place outside the run-of-the-mil norm.
It's never been more popular.
Dance is artistic expression, a release valve, and as good as any sport to keep you fit. And most of all, it's fun.
I have to confess I once tried an adult ballet class as a precursor to writing about it. A group of my friends loved it, still love it, but I couldn't take to it, largely because ballet was so alien to me. I grew up thinking only posh girls did ballet and just didn't get it. And I still don't.
Dancing around the kitchen to the latest tunes on BBC 6 Music, though, or to 1970s disco and funk, well, that's another matter. It's a bit like stream of consciousness writing. You just do what comes naturally, instinctively. There are no rules.
So I have to admit to being a little hesitant about meeting Anna Golding, a dancer and choreographer from Bridport who is involved in a number of groups locally.
I was put on to her by a mutual acquaintance, Tessa Slimon, who is a member of her Over 50s dance class in Charmouth.
'You really ought to do a piece on her for the Marshwood Vale Magazine. She's really good. It's such a lovely class.'
I wasn't able to attend a class but arranged to meet Anna for coffee in Gelateria Beppino in Bridport. I knew Anna Golding's name from her choreography of Flea!, the weird, wacky and brilliant piece of community musical theatre performed at the Electric Palace in Bridport in 2017. It was written by award-winning composer Andrew Dickson and directed by the Lyric's Nikki McCretton from an original idea by Sally Vaughan.
Arriving at the café, I felt rather embarrassed when I realised I'd turned up with only about 60p in cash. Anyone who's bought a coffee lately will tell you that's not even enough to buy the milk.
But Anna instantly put me at ease by diving for her purse straight away. It was ridiculous, really. Why would I have been nervous? I was the one interviewing her. (Maybe it's because there are too many people on the local arts scene who can be sniffy and aloof from ordinary people and real life. That's why I like Colmer's Hill artist Marion Taylor, because she's not like that. But that's another story.)
Straight away, I liked Anna Golding. Here was a woman with no airs or graces, no self-importance, whose two great loves are dance and people.
Working in the community through dance, with all sorts of people, is what Anna excels at. Our mutual acquaintance, Tessa, says: 'She is a very inspiring dance teacher and always encourages her pupils.
'Anna's dance class helps me physically and mentally—the dance sequences we learn exercise my memory and coordination. We are able to use our imagination sometimes and create dances pieces ourselves.
'The music which Anna chooses is very eclectic and varied. And she is incredibly sensitive to everyone's different needs in the class.'
Tessa asked a few friends what words they would use to describe their dance class: laughter, fun, friendship, creativity, expression. Of Anna, they said: welcoming, encouraging, mindful of older dancers who are less flexible and, lastly, a beautiful dancer.
Anna spent her early life in Durham with a father who was a playwright and a mother who was a painter and community activist. She left to study landscape architecture in Leeds in the late eighties and, after a period working for the council in Huddersfield followed by a short life in Greece teaching English as a foreign language, decided that she needed to find a new path.
'I had always loved theatre and dance but up until this point hadn't pursued them seriously, having been encouraged to follow a more secure path, but now it felt like the time had come to jump into the unknown,' she says.
While deciding, Anna enjoyed the vibrant jazz scene of Leeds and got to know dancers there who were studying nearby at the Northern School of Contemporary Dance.
'I was persuaded to audition and was thrilled to be offered a supported place to train professionally,' she said.
What was it about dance that excited her?
'A button switched on in my head and my whole body came alive with the music, pushing my body to fly and fall in ways I had never thought possible. Almost by chance I had found something which felt completely natural, a passion which has stayed with me since then.'
From Leeds, Anna moved to London where she worked in a variety of fields including as a dancer and a teacher, arts journalist and museum educator, all of which ran alongside a new life raising her own family.
In 2005, she moved from London to Dorset where her family settled into a new rhythm in Bridport.
'I first came to Dorset when I was 14 and was reading Hardy's Far From The Madding Crowd at school,' she says. 'We were staying near Coryates, not far from the house that features in the Julie Christie film. I came to Bridport a couple of times and loved it.
'My husband Spike's family lived in Southbourne so we used to come to Dorset a lot. We went camping in the Purbecks and started to explore West Dorset.'
After moving to Bridport, Anna worked for Take Art in Somerset for six years on various dance and health projects across the county, developing a particular interest in the mature dancer and in inclusive dance.
Since 2010, she has worked as an independent dance artist more locally establishing projects such as Grace + Growl, No Limits Bridport, The Shoe Chorus and, most recently, Fingerprint Dance, a community interest company building on these existing projects and developing new dance opportunities for all ages and abilities in West Dorset.
In 2011, Anna worked with Activate Performing Arts on a Cultural Olympiad project called A Dance A Day which offered dance opportunities to people over 50 in Dorset. She worked with a group at The Marine Theatre in Lyme Regis to create a piece of contemporary dance which was performed on Weymouth Esplanade as part of the opening celebrations for the Olympic Games in 2012.
After this project, the group were keen to continue dancing with Anna and have been doing so ever since. They are now based in Charmouth Village Hall. The classes are a mixture of contemporary and creative dance, are open to all adults with or without dance experience and take place on Thursday mornings in term time.
What is it about dance that brings people together? Why does dance work so well for community projects?
Ann says: 'We move for pleasure, often in response to rhythm, way before we can crawl or walk.
'Small children, so at ease in their bodies, physically respond to the world around them by exploring human contact, gravity, their environment, something which they share with dancers the world over.
'Over time, the instinct to move to a stimulus, normally music, can be dulled down by the pressures of modern life and the joy of dancing becomes confined to kitchen dance floors on a Friday night. What a community dance class offers is very simple, the chance to come back to this way of connecting body and mind, enjoy a freedom in movement with each other—and have fun while you're doing it!'
For more details about Anna's classes, call her on 07958045672 or email her at goldinganna@gmail.com