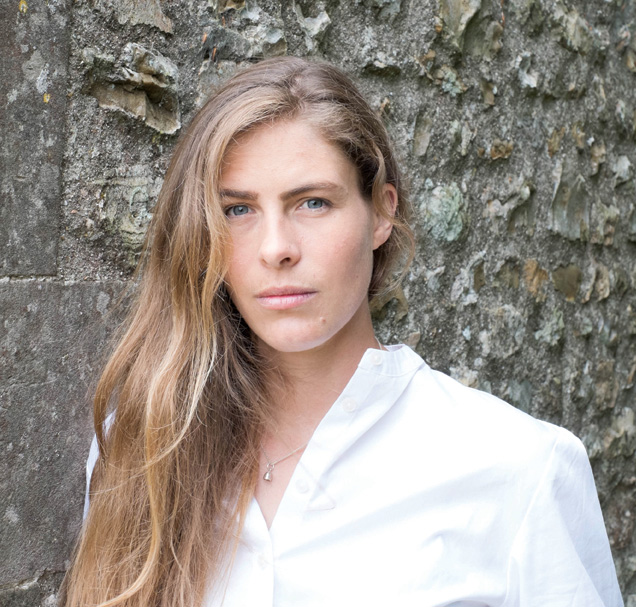 I'm a west country girl at heart. I was born in Dorchester in 1986 but I've moved around lot: Dorset, Cambridge, West Sussex, Somerset, Devon all during childhood, before moving to London at eighteen, then Ghana in my twenties, and now Oxfordshire, moving back from Africa last year. As a child, it wasn't the houses that were my anchor of home, but the birds who always greeted me in each garden. Mostly the birds were house sparrows and blackbirds but one stint, in an unassuming bungalow, was special because the summer was lit up by the sound of nightingales. My father would take me out when it was too hot to sleep and we would stand together holding hands in the dark. The song would burst from the thickets in a crowd of notes before the birds stopped in a theatrical silence. I'd listen harder, waiting for the nightingales staggered starts, like spurts of whistles in the dark.
I've never liked being cooped up inside so school was unenjoyable. Throughout school in Taunton, then Wellington, I'd find myself staring out at the wagtails who cheerily hopped around the empty playgrounds and fields. I always felt like the odd one out despite being captain of the sports team and fanatical about hockey, playing for Somerset and then the South West. I just don't like being in groups of people.
Throughout childhood, I lived for the holidays in the tiny Dorset hamlet of Fishpond where my maternal grandmother lived, in a house that looked out to sea across the green valley. My sister and I would wake up and rush into Granny's room to stare out of her huge window. If the sea was glinting like a distant mirror we would excitedly change straight into our swimming costumes. Mum would make a picnic lunch and off we would all go, to Charmouth beach, sometimes Lyme Regis, ending up on Stonebarrow or Golden Cap. If the soft grey blanket of a sea fret covered the bay, we would walk up the steep hill of Lamberts Castle, along to Coney's Castle. I'd stare out across the Marshwood Vale and think it was the best view in the world. I still do. My imagination would run wild, I think because I felt connected to the place but also to myself. I felt both alive and settled there because it was a place I had always known. In fact, it was one of the places I deliberately returned to last year, on a sort of pilgrimage, when I moved back from Ghana, because I knew I would find adjusting difficult. Although home is England, it didn't feel like it anymore which is the mother of all ironies since I really struggled to adapt to living in Ghana. It took years.
I was twenty six when I left England and by then, I had been living in central London ever since moving there to study a BA in Fashion Photography at UAL. I had fallen for photography at school, perhaps because it was a way to escape my teenage peers and get outside. I was part of the last intake at London College of Fashion to be taught with analogue cameras (I had a Hasselblad and used film that only had 12 shots). I graduated with a First Class Honours and exhibited my black and white portraits in the Royal Academy's summer exhibition. I took portraits of the Household Calvary horses including one of the Queen's favourites, a beautiful skewbald called Peter Pan. But I had stepped out into adult life when the recession hit in 2008 and my life turned into a rush. Earning enough to pay rent was hard. I modelled for Models 1, finding myself standing naked except for knickers in an enormous parquet-floored room while the iconic fashion designer Tom Ford fitted his debut women's collection to me. Then I became a copy-writer and brand consultant. Wally Olins, the guru of branding, was the founder of one of the companies I worked for. We'd sit in the empty warehouse office long after everyone else had gone and he would push me creatively, stretching my ideas further. We always came back to the idea of the personal: that one person's story could draw anyone in. At the time, I had no idea I would become a ghostwriter of other people' memoirs, and then finally my own.
Somewhere within my crowded life, I met Robin, my future husband. A former double Olympic rower, Oxford blue, and recipient of the prestigious Conscious Gallantry Cross, he had been in the Household Calvary but I had never met him while photographing the horses. During that first summer, we cycled along the river from Chiswick to Barnes and somewhere along the Thames path, we fell in love. A year passed and Robin was offered a job in Ghana. Six weeks later, we were at Heathrow with a one-way ticket to Africa.
In the end we lived there for seven years. First in the capital, Accra, before moving to the rural grasslands. I had expected the move to be an amazing adventure. Eventually it was, but to start with it felt more like a mute nightmare. I was a 'trailing spouse,' a term that describes all the expats spouses who aren't permitted to work. Overnight my busy life was swapped to an empty life in a small concrete apartment. Without the layers of social life or work commitments, I didn't know what to do with myself and with Robin working pretty much 24/7, I felt very alone and didn't know what to do—how to begin a totally new life.
I've always been an anxious person but feeling purposeless exacerbated everything including my secret OCD. I had never admitted I had OCD to myself, let alone to Robin or anyone else. I had always felt confused by it, not knowing what it was for most of my life, or that other people suffered from it. I felt mortally ashamed of it and that gave it more power over me. It reared up like a sinister jack-in-the-box and I teetered on the edge of sanity.
Luckily, we moved away from Accra, to a thatched bungalow on the edge of the grasslands next to the Volta river. I was reunited with countryside, albeit a very wild version, full of forest cobras and scorpions but also colourful birds. I spent whole days walking down the vermillion tracks that cut through the swaying grassland. Swifts, who fly from Britain to Africa and back every year (without landing) have always been my favorites, their awe-inspiring lives unbeatable, their shrieks iconic. I'd stand and watch them wheeling over the baobabs and palms, their helter-skelter flights transporting me back to childhood days watching swifts in the rolling hills of the west country.
My love for birds changed my life. First, I rescued and hand-raised a swift who felt like a velvet stone in the palm of my hand. Then a gregarious, goofy, resilient Bronze-winged mannikin finch, similar to a sparrow but about half the size. I found the fledgling finch on the ground, abandoned by his flock after a storm. One moment of compassion turned into three months with the finch, more recently summed up in a national newspaper headline that went viral across the world, 'Woman lets baby bird nest in her hair for 84 days.' It wasn't a sensationalist stunt but an experience based on one bird's need to survive. The finch's trust in me allowed us to spend most of our time out in the grassland, following his family flock so one day he could reunite with them, returning to the wild, free. This mammoth task tuned me in to the landscape, understanding the rhythms of the grassland so I felt a part of it.
Maybe my experience would have stayed an anecdote if it weren't for me somehow forging a writing career from my little thatched bungalow. Reading a lot in Ghana had turned to writing and a dream of becoming a published author. Writing had turned to ghostwriting and editing. I flitted between England and Ghana, editing The Windsor Diaries and working closely with both Anne Glenconner for her bestselling memoir Lady in Waiting and Norman Scott for An Accidental Icon. Then, I felt compelled to tell my own story.
I moved back to England with my husband last year. The remnants of our African adventure are two former street dogs we rescued while there, Fledgling, my nature memoir that the finch graces the cover of, and my mission of engaging everyone with birds. My time with the finch showed me how anyone can make a difference no matter how small so I've become a conservationist, focused on supporting and protecting the nature on my own doorstep. I've also started talking about my anxiety and OCD, my very first conversation, live on Radio 4. It feels empowering and useful to talk about mental health. I was crippled by feeling alone and so by sharing my experiences, I hope anyone who can relate, will realise they too, are not alone.
I've spent the summer watching the swifts wheel above the hills and a part of me is transported back to the baobabs and palm trees of Ghana. As these incredible birds return to Africa once more, I feel torn that I'm not going with them so I've spent a lot of time back in the west country where my parents live. I find myself staring across the Marshwood Vale, the view helping me find my feet, rooting me back to England. At least, for now.