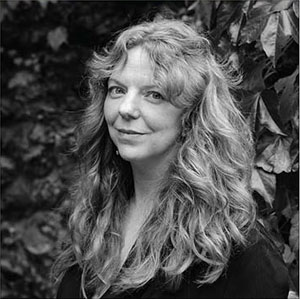 Robin Mills went to Toller Whelme, Dorset, to meet film maker Havana Marking.
I was born in the original Charing Cross Hospital, which was proper central London, on the Strand. I grew up in the West End, when the West End was very unlike it is today; when Covent Garden was still a market and there were lots of secret alleyways for us kids to have a great time exploring and having fun in. I really enjoyed growing up in London, but I was very lucky to have Dorset links. My father's grandparents had always had a base in Kimmeridge, east Dorset, so I have many happy memories of Christmases, weekends and summer holidays by the seaside. My mother's parents lived in Maiden Newton, so there was a lot of to and fro from central London to rural Dorset. The kids I grew up with in London were from a wonderfully diverse background; some had rather bohemian parents – perhaps like mine – or they were from the nearby estates, and from a wide ethnic mix as well. So I saw a really interesting slice of life growing up there, properly urban life, not the suburbs, but I also had the paradise of life in Dorset. I always felt totally safe in central London; I felt I knew everyone around me, and never found life at all scary.
As an only child there were advantages and disadvantages, but it did make it easier for my parents to travel to exciting places with me in tow. My Dad is an architect, and he worked quite a lot in Asia, and my Mum is a journalist and writer, so sometimes their work necessitated going abroad, but they also just loved to travel. On arrival, with no brothers or sisters I'd be forced to make friends and play with local kids, but that was a good experience. My childhood was very happy, and I am lucky to have parents who are such brilliant role models. From an early age there was always a big emphasis on creativity at home, and I was encouraged to come up with my own ideas and create my own future. Within that, there was always an understanding that it was ok to have bad ideas, because you have to be free enough to have good ones as well. I went to various London schools, some good, some not so good, and being dyslexic I struggled a bit before it was recognised. Then aged 9 I went to school in Shaftesbury, which was a bit of a shock to the system. By then I was quite cockney and swore a lot, so at this fairly well-to-do school I soon had to pull my socks up. But all the things I loved about Dorset, from visiting my grandparents, were there, like climbing trees, and swimming in rivers, so I was free to carry on being a bit wild. Then I went to school in Blandford, to Bryanston School, and I was still building camps in the woods there at age 16 which was great. I had no idea of what I was going to do with my life, but strangely I did make pop videos of the school band at age 14 or so, although annoyingly I don't have them now.
After school I travelled for a year, mostly in Asia, then I went to university at the School of Oriental and African Studies in London, and did anthropology, and history of art, specialising in South Asia. It seemed a strange and very specific thing to do, but it wasn't until I made my film Afghan Star I realised that everything I'd done at university was in fact leading to that point, and that it was totally relevant, but that realisation took me quite a long time. I loved the course because it necessitated more travel. I did my dissertation on politics and contemporary art in India, and I did a project on street theatre in India which involved studying and travelling with a fairly hardcore communist theatre group.
I came back to Dorset after university, not really knowing what I wanted to do next, and waitressed at the Riverside in West Bay for a few summers. At that time there was a newspaper in Dorchester called the Dorchester Guardian, and I worked on that, then a friend of mine called Helen Day and I set up a little magazine called The Return of the Native, "the occasional magazine for West Dorset". It was at the time, the late '90's, when concepts like "organic" and "local" were becoming important to people in this area, and that was our main focus. We got Arts Council funding, came out quarterly, and described ourselves as "free, but worth a quid".
It was also at that time that the first TV series of River Cottage, which was commissioned on the back of all the local grassroots interest in that kind of lifestyle, was made. Because of our magazine, researchers for the programme always came to us for contacts with local farmers and producers to include in their shows. By the third series I was asked to work as a researcher, which was absolutely brilliant and I loved it, and learned loads; and those were the days when TV series still had good budgets so we had nice lunches. The company that made that series, Keo Films, then asked me to come to London to work for them as a permanent researcher. That was basically the start of my life in documentary films. Even though Mum had made documentary films, and I'd made documentary films with her when I was a kid, it had never really occurred to me that this was what I wanted to do. I was much more interested in journalism, but the wonderful thing about documentaries is that you are combining journalism and art, story-telling through a beautiful visual medium.
From then on I made factual TV films, trying my hardest to get on shoots that involved travelling. I worked on films all over the world, including as a location manager on one of Michael Palin's Himalaya series. As time went by I wanted to go to more and more extreme and difficult to get to places, and by now I wanted to direct my own film. I really wanted to go to Afghanistan, not least because a good friend of mine, Jemima Montagu (also from Dorset), was working for an NGO there and kept telling me how wonderful it was and that there were amazing stories to tell. I was having difficulty finding a story to pitch for funding, when a BBC journalist told me about a TV talent show called Afghan Star, an Afghan version of The X Factor. I knew straight away that this was a genius idea. It was also a really good way to convey what the young people in Afghanistan were thinking, because for a long time it was the older people, mujahideen and religious extremists, who had been shaping the narrative, and I knew from my own time spent in Asian and Islamic counties that the young people had different ideas. So in 2008 I went out on my own to research the idea, and came back with a project proposal strong enough to attract the necessary funding. I then went back for 3 months to make the film; I really wanted to make it my own story, rather than a standard TV documentary. It was a time when big changes were beginning to happen in Afghan society, which were evident everywhere you looked, and Afghan Star represented a big part of that. It was giving one side of society a voice, literally, when singing had been banned, punishable by imprisonment or worse. For girls, singing was still considered risqué, and dancing was still forbidden. My film, which was also called Afghan Star, was always going to be a quirky look at this situation, but because of various things that happened to the characters in it, it became a sort of life or death thriller.
This was my first feature length documentary, and I was thrilled that it got in to the Sundance Film Festival in 2009. Even more so when we ended up winning the Audience Award, and Best Director in World Cinema, which of course totally changed our lives and opened doors for us to continue film making. I'm now part of a company called Roast Beef Productions, making feature documentaries. We have had four films at Sundance, won six Sundance Awards, two Grierson Awards, a Prix Italia and an Oscar nomination. Things have changed a bit for me since I had my daughter Celia, who's now 3, so my role doesn't involve so much travel. But it was wonderful to be in Afghanistan, and I was really inspired by the people I worked with there, their hope and their efforts to create a new society which they could all be part of.