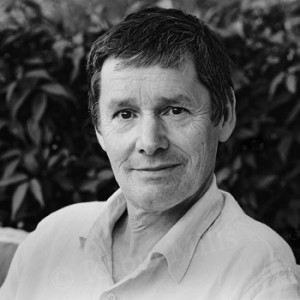 "I was actually born in a village called Sherston, in 1952, which is in Wiltshire near Malmsbury, where my Dad was a teacher at the village school. When I was about 4, Dad became headmaster at Fontmell Magna School, near Shaftsbury, so we moved there, and lived as a family in the Victorian school house. That was where I grew up, and because there was a door which led straight from our kitchen into the classroom, of course I was never late for school. In one of the kitchen cupboards was an old metal handle which in former times would have rung the school bell. I remember in the middle of one night, when we were all asleep, there was a terrible crash, which turned out to be the bell falling off the tower into the classroom below; had it happened in the day-time when there were children in there, it would have probably led to tragedy in Fontmell Magna.
I've got three brothers, one a sailor, the others teachers. I'm the only one who's stayed in Dorset, the others moving away for their work. I went to Fontmell Magna School as did all my brothers, and later in life my children went to the same school. So the whole family was very much involved in education, and I don't remember there ever being a problem having my parents as teachers. Dad was always scrupulously fair, and because it was a small school, only three classes with about 25 children in each class, it all seemed very friendly and laid-back. After the village school, I went to Shaftsbury Grammar School, and then to Norwich to the University of East Anglia. The two subjects I'd enjoyed most at school were English and History, so that's what I did, but I hadn't really got a clear idea of what I wanted to do after that.
The music started in dribs and drabs, really. At school, I took violin lessons, mainly to avoid having double geometry on Thursdays, but it wasn't my instrument and I stopped. It was of course the late sixties, the time of the Beatles, Simon and Garfunkel, and Bob Dylan, and many of my friends and I were learning and playing acoustic guitar so I arrived at University able to play guitar to a reasonable level. I've never actually had any music training. In Norwich there was a very vibrant folk music scene, and I became completely hooked on it. I was infatuated with traditional music, "story songs", and squeeze boxes, and I began to think this might be something I could do. I was lucky to have a mentor in Norwich, a remarkable man called Peter Coleman, a butcher. There were still traditional singers in the area whose songs, performed unaccompanied, had been handed down orally through family and friends, and Peter felt it was very important that these songs shouldn't disappear. There was something he liked in my approach to the music, and he taught me many of the songs. He also taught me something about the philosophy of these old songs, about why anyone would want to sing this 300-year old music and pass it on to other people. So I have a lot to thank him for; he instilled in me a love of oral tradition, of inherited stories and song, which has really informed everything I've done since.
There was quite a lively folk music scene at the time, folk clubs were well-attended, and I came in on the tail-end of that. After university I wanted to perform, and like Dick Whittington, that necessitated a move to London. Getting residencies in folk clubs, I started by singing and accompanying myself on guitar, and on concertina which I had started learning in Norwich. There were many famous performers on the London folk scene in the 1970's like Martin Carthy and the Waterstons, and they remain famous, their talents running in their families. In the late seventies I worked with Taffy Thomas, who ran a group called Magic Lantern, which was a shadow puppet show with story-telling and traditional music. It was quite a big Arts Council supported national touring show, and they recruited me, which was my first professional job. As well as the singing and playing, it involved different performing styles such as acting and puppet-making, and this experience reawakened my interest in acting, something I'd done right back in Fontmell Magna.
At the end of its life Magic Lantern led me to Suffolk, and living back in East Anglia I became involved with local music-making, where there was a strong presence of an older generation of singers and musicians. They hadn't learned their music through folk clubs, they'd been performing it all their lives in their own traditional way, and listening to people like them playing and singing has always been my main inspiration. I'm fascinated by the way they sing their songs, the way they tell their stories, and I'm trying to carry some of that on, by listening to them, and analysing why the way they perform is so effective, rather than trying to sound like them. If I go to watch the Symondsbury Mummers play at Christmas, not only has that play been performed continuously for hundreds of years, but the performance style is inherited as well. That comes from a respect for tradition, and its timeless quality; it's not about nostalgia, it's about a long-established way of performing the actual work, and that excites me. The strength of the music, written in very different times, keeps it relevant to the present day. It can be performed in so many different ways, with different accompaniment or harmonies, and even though the words may be dated, the emotions within the songs have as much power as ever. The love stories, the stories of troubled times, the celebrations, are as much a part of our lives today as they ever were. Here in Dorset, probably more than any other county, there's an extraordinary wealth of tradition in local folk songs, and also in Thomas Hardy's and William Barnes's work.
My wife Angela and I came back to live in Dorset, to Iwerne Minster, just before George, our youngest son, was born. It was a very special time for us; by now we had three children, Gabriel, Polly and George, and we lived just over the fence from their Granny and Grandad. I was lucky enough to work with the National Theatre, playing the concertina in the Beggar's Opera and several other plays. That led to quite a long working life with other theatre companies, but it was mainly work based on knowledge and love for traditional music. I've also worked on community plays, On Green Rock in Shaftsbury, and A Time to Keep, in Dorchester in 2007. It was fantastic working on a local production, getting to know the local community in a different light and watching different talents emerge.
I've been playing with the New Scorpion Band for 17 years now. We play a huge range of instruments and different regional styles of traditional music that appeal to a wide audience. Lately I've been working on Thomas Hardy's The Distracted Preacher, adapted for the stage by a good friend of mine, Ray Sergeant, who sadly died of cancer, as a kind of tribute to him. Again, we're lucky living in Dorset having access to so much good performance, and I'm sure one of the main stimulants to this is Artsreach, whose programme encompasses an astonishing range and quality. You can see stuff which is every bit as good as anything in London, with the bonus of being so close to the performance.
Two years ago, riding my bike into Dorchester, I suffered a heart attack. One of the positive things to come out of that event is that I no longer travel ridiculous distances to performances, and mainly work locally. Our house here in Bradford Peverell has become the hub of the family wheel. My Dad lives here with us, we have a large garden and love working in it, and now we're grandparents to my daughter Polly's little Rosie, so they visit frequently, as do my brothers and their families. As a family we lived closely when I was young, and we're still close. Dorset, and my family, has been an inspiration.