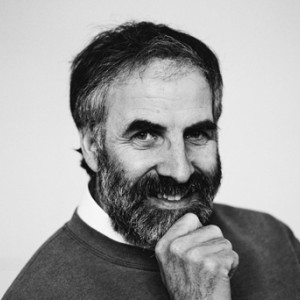 Robin Mills went to meet Bill Crumblehome in Upwey. This is Bill's story.
"I started pottery when I was at Weymouth Grammar School. My big brother was at the same school, and he had fun with clay sculpting: he'd made pots with figures crawling out of them and I persuaded the teacher, Peter Goodson, to let me go to after-school sessions. I potted for relaxation during A-levels, teaching myself how to throw on the wheel and producing vases which were ideal for my mother's flower arranging – nice and heavy with interesting glazes! My mother is quite artistic, she paints, and my grandfather was a plumber, a lead worker, very good with his hands: he could turn a sheet of lead into a ball, just by tapping it around, so I might have inherited some of his skills.
I was brought up in Weymouth, born into a fourth-generation family building business with a most inappropriate name! I went into it as a young man and worked there for twenty-odd years.
Diane, my wife and I moved to Upwey, buying Mr Lovering's house in Elwell Street, which had been a butcher's business. We converted the stores into a pottery studio and I spent my spare time messing about with clay, between bringing up two daughters and sailing.
My early work wasn't that good technically, and I remember taking my pots to the Dorset Arts and Crafts show in Blandford, where the judges said I should maybe use a bit less clay and a bit more thought! I'm actually green colour-blind, which can be quite an interesting challenge: to my eyes a brown pot's as good as anything!
Perhaps I'm not obvious material as an artist: but an engineering approach is useful. I think of myself as more of an artisan craftsman, or that's what I'm working towards.
I started appearing at the Old School Village Hall, as a potter and also in the village pantomimes, which were splendidly stupid, but great fun. I am currently the chairman of the trustees that manage the hall. The Upwey Potters was established in the hall with locals Fil and Maggie Cooke, also involving Anne Ashmore, Pat March, Jane Taylor and Paul Sutton. We inspire and help each other to improve our work and learn off each other, trade together and run classes and workshops. We also encourage other creative people through classes and the village hall has built up a reputation as a venue for art and craft exhibitions and workshops.
We helped start the Dorset Pottery Group, with Alan Ashpool, famous for the annual October exhibition at Bridport Arts Centre and also the Millennium Ammonite in the rear yard there.
I became involved with managing the Dorset Art Weeks, promoting artists across Dorset who opened their studios. Through that I met many artistic people who have inspired me and delighted many others.
After stopping the day job, I really wanted to try and make some sort of a living from selling and teaching pottery, as well as having a complete change to my way of life. My wife was working as a special needs teacher, which helped with our income.
I started researching different ways of firing. I visited the Museum in Dorchester to look at the Iron Age Black Burnished wares. That got me into experimental archaeology, working with Peter Woodward at the museum with Kate Verkooijen and his volunteers, investigating and replicating ancient pottery.
I got involved with the Time Team dig at Friar Waddon in the late nineties. They asked us local potters to find suitable clay and timber fuel for their mediaeval expert to recreate pottery and I helped him build a kiln.
Then I worked with archaeologists at Bestwall Quarry near Wareham ahead of the gravel extraction. The Romans had taken over an Iron Age site, industrialised it, and were producing millions of black burnished ware pots per year near Poole harbour, with good clay, coppiced woodland and a handy port. Pottery from there has been found over a huge area, as far away as Hadrian's Wall and northern France. I'd liken it to what Woolworths would have sold, or maybe Pyrex, basic but useful. It's identifiable by its black shiny colour, with latticed decoration. The surface was burnished with a pebble, while drying, to make it shiny and harder.
We rebuilt a couple of the kilns at the Bestwall quarry and produced some pottery to demonstrate and investigate their methods.
Nowadays I'm using my involvement with archaeology as my inspiration. This has led to my running workshops on these ancient methods: we're continually trying to understand how the work was made. The pots from Bestwall were incredibly black in colour: they were not fired like that, because the kilns weren't black inside, so my theory is that they were blackened afterwards in a charcoal clamp, the charcoal being needed for metal working. Sometimes I'll fire my own pots in a bonfire to get similar effects.
I was involved with an exhibition at the Dorset County Museum called Artyfacts, in which artists produced work in response to some of the items on display there. I was trying to make Bronze Age urns and beakers with wonderful shapes, decorated with zig-zags using a comb. I make versions using modern materials and glazes. I love those shapes and decorations and they're great to drink out of!
Normally I'd make that kind of thing on a wheel, but of course you can't do that if you're trying to be authentic. So I've taught myself to do it joining three or four rings of clay together, and I'm getting quite quick at it now.
I think it was the Victorians who coined the phrase "Beaker Folk" for the people from that era, and I've borrowed the phrase for my website www.beakerfolk.co.uk, where I show this type of work, with other people doing similar activities.
Archaeologists and I learn from each other: when they see me actually making something, the whole process behind an artefact becomes an illustrated reality. But so much of early material culture is lost, the things made of wood and leather and other organic materials are completely gone. Kate and I have become involved with the Age of Bronze, which is a living history group that stages re-enactments – I have appeared near Stonehenge and at English Heritage's Festival of History, resplendent in homemade costume and shoes!
My latest venture goes under the snappy title of "the Ancient Wessex Development Group", which is an attempt to bring together people who work in the heritage industry, mainly with tourists, to collaborate with artists, makers and designers and see what potential there is for all of us to benefit. We've been talking to, for instance, the Area of Outstanding Natural Beauty team with their South Dorset Ridgeway Project. They're organising guided tours in the Maiden Castle area, where you might come across me making pots at the end of May. There'll also be an event at Corfe Castle in late July and early August, with people making artefacts of ancient times and artists painting landscapes inspired by history. Then we are setting up at Maiden Castle in mid September.
I now run a business, Alacrify, undertaking website design and consultancy. I work with Jon Sloper: I do the business side of it, and some of the less complicated things. Jon does all the clever programming; I think his flair for design comes from his background as an artist. It is all about using modern tools to communicate and provide information.
I get so much from working with groups, combining different talents, where the whole of something is greater than the sum of its parts. That was why I got involved with Dorset Art Weeks, bringing people together to produce such a successful project which has grown and grown. It was genuinely inspiring to be part of, especially helping artists to actually make a living from what they create: it's difficult enough to produce the work, but then you have to be skilled enough to actually sell it. This part of the world has huge resources in the number of creative people who are living and working here: we need to make everyone much more aware of that phenomenon, for the benefit of the whole community."