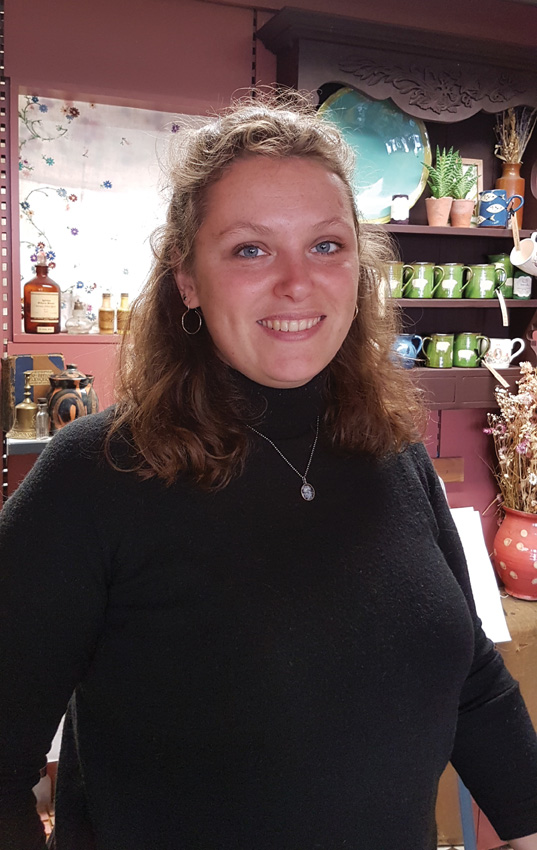 The handsome seasonal window displays are often what first draws in passing customers to Collate, an independent shop that sits proudly on Trinity Square in Axminster. Naomi Eden carefully selects a range of new, vintage and second-hand homewares as well as art, craft and sometimes the odd antique, which she displays beautifully on the shop floor. Opened in late May 2018, friends and family had encouraged Naomi to do her own special thing, after years of figuring out what she wanted to do while working for others.
Loving the shop's location, Naomi was over the moon when she discovered the original black and white chequered floor underneath the old layers of carpet. It is now proudly polished and sets off Naomi's wares elegantly. She tries to source handmade craft items solely from Dorset and Devon and is particular as to which artists are on display. She has a relationship with every supplier and is proud to be showcasing hand-made local items. Naomi also trawls around local antique auctions and flea markets looking for the perfect pieces to bring back to their original splendour. The stock in the shop is a mix of old and new, artfully put together so perusers imagine the items were always made to sit together. Naomi feels lucky to be a shopkeeper and part of Axminster's unique and ever-growing independent shop scene—something she is passionate about.
As Naomi says, "The shop is an extension of me, I really care about it. When I lock the door at the end of the day I don't mentally walk away. The shop is my life. It's hard work, but I love it, so I don't mind". Opening up at 10am and then locking up between 4pm and 5pm Naomi's first priority is to take her dogs out when she closes up shop. With three spaniels, one of which is Hatty, who sits under the counter and is very much a part of the shop's furniture, Naomi loves taking the dogs out for walks at the beginning and end of the day. She lives in Lyme Regis and enjoys strolling along Monmouth Beach and up through Langmoor. And as Naomi's mum's artist studio is above the shop, if for any reason she needs to pop out, she has the perfect stand-in. A perfect set up, in more ways than one.