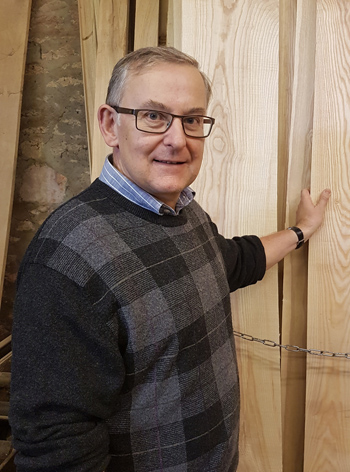 David Mounstephen has been working at Yandle & Sons Ltd in Martock since he was 18 years old. Straight from college he already had a love for the company that he would come to run as Managing Director, following on from his father, and his grandfather before that. Today, the original sawmill has diversified under David's management and includes a timber shop, a woodworking centre selling all and any tool conceivable that a woodworker may need and a café which the locals love. There is also a store selling haberdashery, paints and craft materials and a gallery which stocks an impressive array of different pieces from local artists as well as a learning hub. It is this expansion from the still operating sawmill that has kept Yandle and Sons Ltd a thriving business.
Originally, Yandle & Sons Ltd only dealt with English Elm and made coffins which were sold wholesale. But with the onslaught of Dutch Elm disease, the business was under threat almost overnight. David and his father looked to put the sawmill to use in other ways and found a gap in the market for oak caskets to house ashes from cremations. These caskets also led to making the handles for coffins which, until then, had been made from non-biodegradable materials. David's love for retail gave him the confidence to introduce the craft shop, somewhere which could entice anyone visiting whose head wasn't turned by the woodworking emporium. The café was a natural progression after that, providing somewhere for people to meet, with the recent addition of a table for anyone who would like company to sit at and meet others.
Decidedly a family business, David still meets with his father at his parents' house every lunch time. They are joined by David's nephew, his designated heir to the business. Together, the three generations around the table discuss business and new ideas, all while enjoying mother's cooking; her roasts are top of the wish list. And when evenings and weekends allow, David retires to his farmhouse in Martock which he moved to in January, after a long spell commuting from Bristol. Back in the village where he was born, he allows himself time to explore his love of painting. Possibly one day we may spy one for sale in the gallery if his humility would allow it.