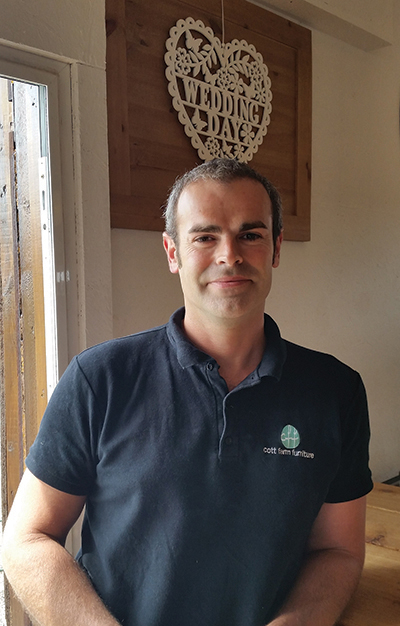 Just married this summer, Ollie Seyfried runs Cott Farm Furniture, part of Cott Farm, East Chinnock, which has been a family business since 1973. Working on the chicken farm, producing free range eggs along with a farm shop that his parents set up, Ollie branched out into furniture in 2000. Starting off with some pieces from a local furniture importer, the stock sold so he bought some more, and more, and more, growing to the  large showroom and e-commerce website available today.
A self-confessed perfectionist when it comes to carpentry, Ollie is self-taught. Filling the space he has with free-standing domestic furniture there is also the odd quirky vase or painting to come across. Full of bits and bobs, standard furniture and bespoke pieces the showroom is bursting at the seams with interesting finds. The on-site farm shop also provides opportunity for a piece of cake and cup of tea for any customer flagging with the choice available.
Also on offer is the barn Ollie and Becca got married in. Working day and night to get it finished, Ollie's prize collection of enduro mortorbikes (off-road racing motorcycle), campervans and tractor were de-camped in order to provide a stunning venue for the couple. However, so successful was the transformation, the barn is now available for other couples to hire for their special day, as well as any other use it can be adapted for.
Spare time isn't something Ollie has much of as he's either in the workshop, showroom or out making deliveries in a converted VW camper. When he does grab some time for himself he can be found tinkering on one of his beloved campers, biking through the muddy lanes in winter or renovating his house. Relaxing at home he loves spending time with Becca, often as her sous-chef, preparing a spicy curry they both enjoy eating.