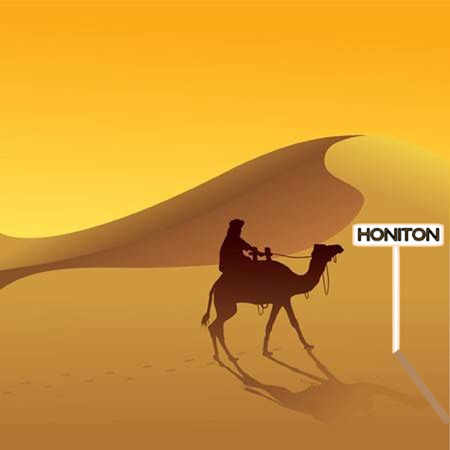 After several weeks of blistering heat, our green and pleasant land has been transformed into a Saharan desert of brown and parched yellow. The sitting room and kitchen are too hot to enter and the previously cool larder is now a laboratory test area for huge clumps of rotten potato tubers and green shoots on deformed ancient veg. I've given up sleeping upstairs because of the heat and now sleep in a garden tent with both sides rolled up and a damp towel draped over my head. Everything is half-baked—even our southwest news which has been depressingly unimaginative. Where have all those silly summer headlines gone that we used to enjoy in past years? Where can I read such creative stories as 'Local Alpacas Destroy Bridport' or 'Yeovil To Host World Cup'? I've been digging through the local newspapers and have now found several lateral items of local news that you may have missed during our long and glorious summer:
Sunburnt Sheep Treated Near Crewkerne: Local vets and volunteers have been called to Upper Sun Bake farm close to Misterton in south Somerset to administer sun cream to over 1,000 sheep suffering from severe sunburn. If you live in the area and would like to help, the advice is to first grab the sheep (easier said than done) and rub generous handfuls of the lotion into the wool and skin. Avoid the eyes and horns if possible. To avoid duplication, the sun cream is coloured with a scarlet dye so if you see a field covered with pink sheep, you'll know that they have already been anointed.
Predator Fish In River Exe: Following record high temperatures, local residents suspect that a shoal of tropical piranhas has taken up residence in East Devon just north of Exmouth. A German family on holiday in the area told reporters they nearly lost several fingers and toes to the voracious fish while bathing near Dawlish Warren. Police have advised tourists not to swim in the estuary until the temperature returns to near normal. In the meantime, a Danish tourist has offered a reward to anyone finding her pet poodle 'Twinkel' which went missing near Starcross two days ago. It's possible that the two events are connected.
Killer Courgette Attacks Dorset Housewife: Mrs Eileen Garden-Scenter had just turned her back on the rows of homegrown vegetables in her Dorchester allotment when a trailing courgette tendril reached out to trip her up. "It lunged out at me", she reported nervously to a passing journalist. "We've grown and eaten so many of them this year, I reckon it wanted to take revenge upon me!" Police issued a number of warnings to amateur gardeners during the long hot dry spell. "Tomatoes and runner beans can be quite sneaky at this time of year" said PC Terry Triffid of Dorset Police. "However, courgettes are becoming very vindictive now that the season is nearly over. The lack of rain in July kept most of them in check, but following last week's downpour, they're on the rampage again with a vengeance. I advise everyone to pull up their courgettes immediately and burn them." Our neighbour's cat has been reported missing since Tuesday. It's possible, as before, that the two events are connected.
Shark Attack in Weymouth Marina: A family of four from Nottingham plus their smart blue motor yacht ('Dawn Daze') with twin outboards plus sailing dinghy, oars and life vests have apparently all been swallowed whole by a gigantic shark in the harbour. The hot summer has produced a number of similar reported incidents from suspected tropical invaders including 'Huge Crocodile Eats Seaton Tram' and '200 Foot Sea Monster Devours Isle of Wight Ferry'. Of course, not all of these news stories are necessarily true. However, given the numerous international outbreaks of 'fake news', the authorities are worried that foreign tourists might become confused as to what is true and what is not. Hopefully last week's news story of an assault by a heat crazed pterodactyl on a picnic party near Swanage may now be considered to be 'fake news', although I have to report that my grand-daughter's pet hamster ('Pinky') went missing last Thursday and it's just possible that both events are connected…
New Abbotsbury Tropical Gardens: Previously renowned as 'sub-tropical', the summer heat wave has transformed these gardens into a fully tropical rain forest with citrus groves, mango and pawpaw growing on the Dorset hillside. The accompanying gift shop now sells fresh tropical fruit instead of strawberries ('Local Abbotsbury Bananas—only £1 a bunch'). The nearby Abbotsbury Swannery has lost its swans because they've flown north to Norway and Greenland to keep cool, but visiting tourists are rushing to view flocks of African pink flamingos gathered in the Fleet. Visitors can also feed the blue macaws and beautiful birds of paradise in the newly renamed Tropical Tarzan Toucan Walkway. Follow the new signs for "Baby Parrots Hatching".
New Desert Camel Transport for Honiton: Mr Al Packer of Ottery St Mary has been training a herd of camels to safely carry passengers from Honiton to Exeter every Tuesday and Friday. "They are so much more comfortable to ride than llamas" he told reporters, "besides which, camels don't spit at the customers anything like as much as llamas. They are also very low maintenance and don't need any water all day. The only downside is that camels do bite if they get upset, so I advise passengers to just sit tight and not move around too much in their saddles."
Other lateral and entirely fake news stories include the Marshwood Vale being officially renamed 'the Marshwood Desert' and its relaunch as a huge children's sandpit. And you can also read about "Heat Crazed Hamster Swims Channel" and "Angry Camel Bites Exeter Bus Driver", although none of these events are connected.