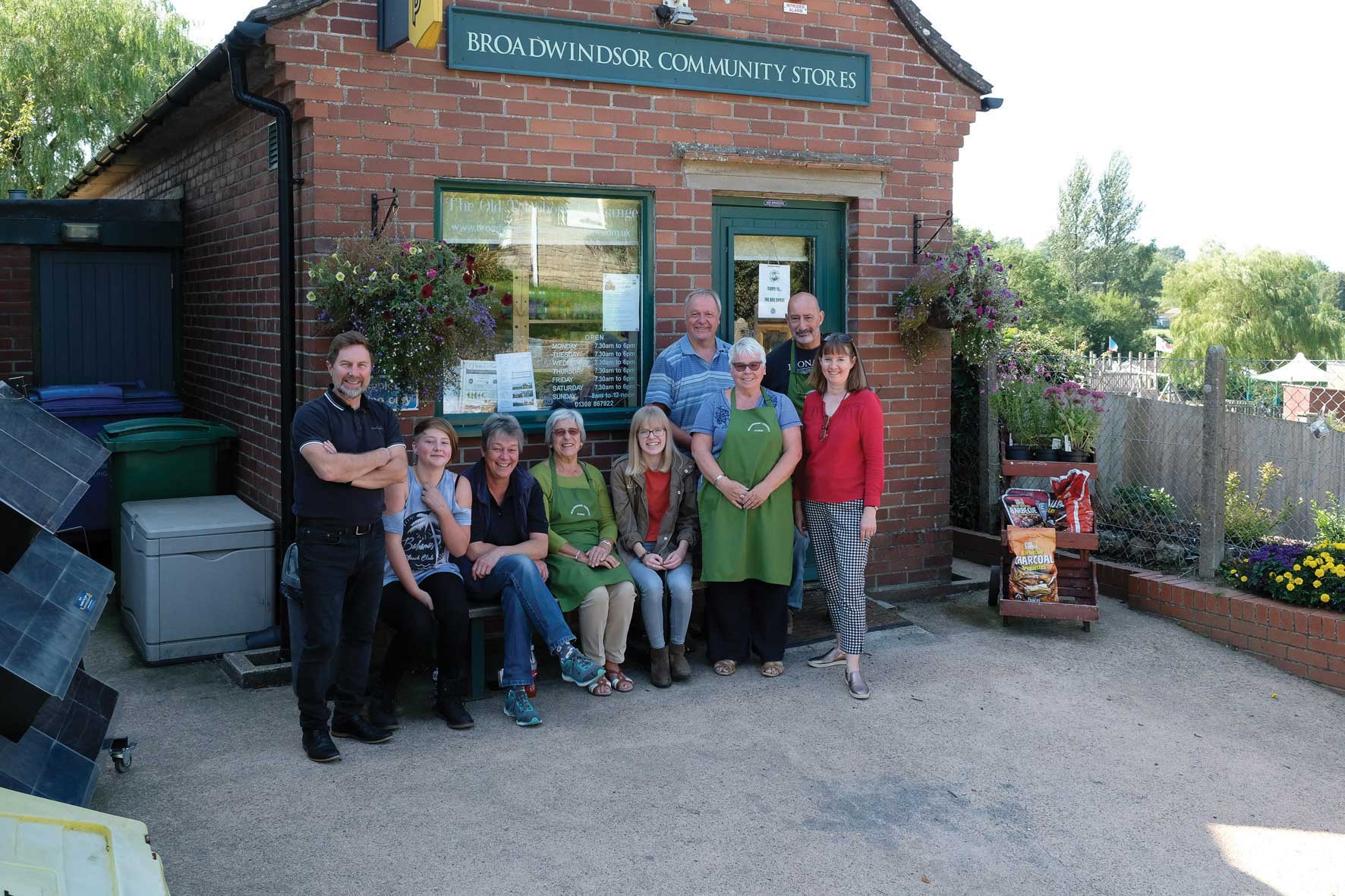 The Plunkett Foundation's Rural Community Ownership Awards are an annual celebration of the contribution community businesses make to creating resilient, thriving and inclusive rural communities. Broadwindsor Community Stores, which was nominated in the 'Community Story of the Year' category, is a past winner of one of these awards. Margery Hookings finds out more about her local shop.
When Broadwindsor's shop closed suddenly in 2012, closely followed by the pub (thankfully now open again and run by very enthusiastic and community-minded tenants) it had a huge impact on the community and surrounding rural area.
Many people in the village are elderly and don't drive, the bus service is erratic and virtually non-existent.
Since it opened in 2013, Broadwindsor Community Stores has been the glue that sticks the village and surrounding area together. There are 231 shareholders in this community enterprise. The shop is open seven days a week, all year round. It draws on an army of more than 50 volunteers who help the employed manager and his assistant run the shop.
It's a vital community facility, owned and run by the village. But, in the few years, the shop has been operating, it's become much more than that. It's a social hub, a little shop with a big reputation.
Retired farmer's wife Jean Frampton, who has lived in the area all her life, says: "I just love my community shop. Nothing is too much trouble. They pack my bag and offer to take it to my car and get me special items if they don't stock it."
Grace Dawson is 21 and reading Music at Anglia Ruskin University, Cambridge. She's been a shop volunteer since 2014 and still helps out during the holidays.
"It brings people together," she says. "It helps older people especially, some of whom are socially isolated in this rural community.  They can wander down to the shop to buy a newspaper, or maybe a fresh iced bun and a coffee, and have a 'natter'.
"When the old shop closed and the pub was closed too, the village died.  When the community rallied round and the new shop opened the whole village came alive again."
Grace recalls how her late grandmother loved the shop. "She could not drive and public transport is not very good here.  However, she could take her time and walk down to the shop, do a bit of essential shopping and meet people."
When the shop was the target of an attempted burglary last year, the locals took it personally. They were devastated and furious that anyone could target 'their' shop. The reaction on the shop's Facebook page was staggering.
During the two bouts of severe snow last year, the village was cut off completely. Having the shop was a lifeline. During the heatwave, when people were too hot to travel, the shop again proved its worth.
White Lion landlady Vikki Phillips says: "We love the shop because it helps bring the community together.
"You meet all sorts of different people who live in the village and surrounding areas who help run it and shop in it.
"It also plays a large part in promoting and supporting local events and organisations. Our shop is also a lifeline to those who are unable, for whatever reason, to get to the nearest town to pick up prescriptions or groceries or just to have contact with other people for a natter.
"It also supports local businesses by stocking local produce."
Volunteers have been recruited from all sections of the community, from retired people to students, to people with learning disabilities to those who work part time away from the village but want to be involved in their community.
Susanne Slater, a mother of two, says: "The shop is very special. It's great for building up kids' confidence and socialising between children and adults.
"The shop is so good for the village. We need it and all of us have responsibilities to keep the shop going and help each other as a community."
Volunteer Mollie Peterson, 19, says: "It gets me out and I meet lots of people. I enjoy doing things in and for the community so this works for me."
Kevin Madder-Smith became shop manager in April 2017. He and his wife had only just moved into the village when he was encouraged to apply for the job.
He says: "I was really worried about taking it on. I felt more than confident carrying out the duties of shop manager but, being new to the village and not knowing anybody, I was really worried as to whether I would be accepted.
"But, more than a year on, I feel fully involved in the community, especially managing the shop which is the hub of the village. In fact, I know people in the village that others who have lived here for many years do not know. Residents who have been here all their lives will sometimes ask me 'who was that then?' and I, the newcomer, am able to tell them."
His experience in the shop gave him the confidence to become even more involved in the village as a parish councillor.
Retired engineer Geoffrey Hutson, who is in his early 80s, has lived in Broadwindsor for three years. He approached Kevin the manager and asked what he could do to help in the shop – but he didn't want to work on the till. So he comes in at least one morning a week to help unpack the weekly deliveries and restock the shelves.
He says: "I just wanted to contribute something to our community.  It's such a wonderful community, who wouldn't want to join and support it in some way?"
Fraser Hughes, a retired marketing executive and a volunteer in the shop, was the first chairman of Broadwindsor and District Community Enterprise. He was instrumental in getting the shop off the ground.
"My first thoughts were the implications of the village not having a shop, and then could we garner enough support to finance the opening of a community one," he says.
"There were many doubters, but following help from the Plunkett Foundation and visits to other community shops, we put a presentation together that convinced both people in the village and grant aiders that it was a sound proposition.
"After an unsuccessful bid to buy or rent the existing shop—which had closed the year before—we found an ideal, but small, premises.
"Now in our fifth year, we have a steady and profitable business, thanks to a strong committee covering all the essential disciplines for the business, and our loyal customers and volunteers.
"From a personal standpoint, although stressful, time-consuming and, at times, frustrating, I have found it one of the most satisfying achievements of my life."
The Plunkett Foundation
The Plunkett Foundation's Rural Community Ownership Awards recognise the efforts of rural communities that have rallied together to save and run vital assets, such as their local shop or village pub.
As well as community pubs and shops from Wales and England, a community-owned farm in Shropshire and a community bakery in Scotland featured amongst the award finalists.
They included Thorncombe Village Shop's Mary Morris, who was a finalist in the 'People's Choice' category. Mary has been a volunteer at the shop in Dorset for over six years, and has taken on more and more responsibilities. She can be found behind the till, cashing up and is responsible for ordering the fruit and vegetables. Mary started the Tuesday lunch in the café area, which has proved a great success and a scheme to get people talking and meeting in the village. Mary organises volunteers and their availability in the shop every day.
The community shop at Hinton St George, Somerset, was a finalist in the 'Investing in Local People' category. The shop provides work experience placements and paid jobs for younger, local residents and opportunities for people to complete their Duke of Edinburgh activities. With around 40 volunteers, who support the running of the shop, they are now in their seventh year and continue to trade as a successful community business.
Churchinford and District Community Store in Somerset was a finalist in the 'Diversifying to Make a Difference' category. The store, which has 70 volunteers of all ages, has bought the Post Office and offers an outreach service to those who are more isolated in the community. The store also provides computers, wi-fi and printing.
This year there was a record number of over 50 entries across six categories.