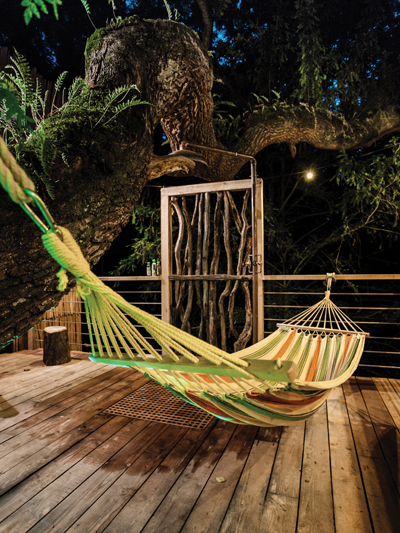 One man's dream and the hearts and hands of many local craftsmen came together to create a magical place in an enchanted woodland. Fergus Byrne has been to visit The Woodsman's Treehouse. Photographs by Sandy Steele-Perkins.
Once in a while we sleep so soundly and dream so vividly that we just don't want to wake up. And what better way to enjoy those waking moments than after a night under the stars.
I recently woke to the sounds of the jungle. A chattering spider monkey curled its prehensile tail around a branch and led his family on a merry dance across the treetops. At the same time, what seemed like a hundred hummingbirds vied for nectar, whilst the cacophony from dozens of other brightly feathered creatures heralded the arrival of the morning sun. On a sturdy branch, not more than 20 feet from where I lay, a furry, wide-eyed indri lemur froze as he heard the low rumble of a Jaguar prowling through the undergrowth at the edge of the water below. I watched transfixed. Suddenly, with lightning speed, the huge cat sank its powerful teeth into the skull of a small caiman and calmly dragged it back into the woods. It was breakfast time in the jungle.
As I slowly opened my eyes and made a feeble attempt at stretching, the sound of David Attenborough's soothing voice gradually faded—as did the wilder animals of my dream. And through a skylight window above my bed amongst the trees, I watched wispy clouds sailing slowly across a powder blue sky. I had woken in a warm, cosy bed and my hazy dream and the sounds of the jungle had given way to the more familiar noises of pigeons and blackbirds shuffling through the autumn leaves below.
It was a crisp, bright morning and I was in a treehouse on the edge of Dorset. However, this was no ordinary treehouse. A 35 square metre structure, lovingly and creatively produced from a mix of local wood, it was the perfect place to dream. The building is perched amongst the top branches of a veteran oak tree; a solid, secure structure that stretches to meet its neighbours—beech, birch, yew and alder—with a majesty that befits its maturity and stature in the middle of this hidden woodland.
In the centre of the room, a rotating wood-burning stove retained a little of the heat from the night before.
I began to remember the magical walk through the woods the previous evening. The treehouse is reached along a series of walkways within a private woodland until you get to a pier-like rope walk taking you to a door with what looks like a submarine window. Inside is a revelation, a glorious circular room cleverly housing a bedroom, bathroom, kitchen and seating area, stunningly created from a range of different woods.
On one side, by a large window overlooking an outside deck with a spectacular view of the ancient oak, a double-ended copper tub beacons and a luxurious steaming bath sets the tone for a gentle day in the woodland.
Recently featured on the list of houses considered for the title RIBA House of the Year 2017 on Channel 4's Grand Designs, the Woodsman's Treehouse was conceived by Bridport resident Guy Mallinson. A master craftsman who studied at Parnham Furniture School and the Royal College of Art before setting up a successful furniture design business in London, like many young boys, Guy had spent much of his childhood years making dens in the woods and the opportunity to design and build a proper treehouse was something he had always dreamed of. 'Who hasn't' he exclaimed when I spoke to him after the project had been completed.
He explained how the treehouse had developed organically.
'I got into the luxury glamping business accidentally' he said. 'We were running green woodworking courses in our woods in Holditch when one of our course guests asked whether they could pitch a tent in the woods during a course. Another then asked if we could put one up for them, and then could we put up a smarter tent, with flushing loos and sauna etc.'
In time, Guy responded to further customer requests for electric blankets, heated towel rails, pizza ovens and even Wi-Fi. 'We were one of the pioneers in the now very popular glamping market' he laughed. However, the business—known as Crafty Camping—is well beyond just glamping. 'We still differentiate ourselves by the hand crafted spaces, using our in house design and craft skills, by running, entirely optional, green wood craft courses and by building our little village of handmade spaces in a woodland on boardwalks and decks.'
Being in a woodland involves a lot more work in both building and maintaining as it is perhaps a more harsh environment, but Guy knew that visitors loved the magical atmosphere and enjoyed being immersed in the wildlife and tranquillity that a woodland affords.
In fact, it was the guests asking for a treehouse to supplement the existing yurts, tipi and shepherd's hut that set a long process of research in motion. A chance meeting and subsequent friendship with architect Keith Brownlie helped Guy's dream become a reality. 'I realised that I needed some help from an architect, as my furniture design skills were not enough to design and build a house, let alone one in the middle of nowhere half way up a tree' explained Guy. 'The collaboration that resulted was a real pleasure and the design development meetings in Keith's Bridport office, the woodland field kitchen and of course the pub were great fun. I think the end result very much expresses the fun that we had designing and developing the concept and design.' A description that Kevin McCloud from Grand Designs echoed, presenting the treehouse as 'a fantastical creation designed to bring out the playful in all of us.'
When Michelle Ogundehin, a trained architect and editor-at-Large at Elle magazine visited the treehouse for Grand Designs, she described it as 'like a childhood fantasy come to life' She loved its 'elements of richness, escapism, even fantasy' saying it was 'quite magical—which is not a word you often use in architecture'.
Made from a wonderful mix of Douglas fir, cedar, larch and oak, set on stilts of sweet chestnut, the building was ingeniously designed around the oak tree, rather than attached to it. Keith Brownlie explained that the ethos was to enhance the environment not to destroy it. It was built 'in respect of the trees, to look at the trees rather than to stress the trees' he said.
Joining the list of buildings chosen to compete for the RIBA/Grand Designs House of the Year is one of many accolades bestowed on The Woodsman's Treehouse and Guy was quick to point out that it took a huge collaborative effort to bring it about. 'We started building the treehouse in February 2016 with a core team of four woodworkers and builders' he explained. 'This team grew through the build as we brought in more specialist and local craftsmen. We were very lucky to know a lot of excellent Bridport and west Dorset based traditional craftsmen through our courses and the green wood craft community, many of whom were involved in the project. By the end we had about twenty of us working on it.'
Guy's three boys were also very involved during their holidays, and along with some of their friends, were responsible for the sweet chestnut split log walls. 'Between them they made and assembled about 10,000 logs, which involved draw-knifing off the sapwood in a shaving horse and then cleaving the logs into quarters before carefully assembling them on the outside and the inside of the entrance cube.'
Graham Diment, an old friend of Guy's, was site foreman, and as Guy put it, 'had the unenviable task of working out the best method to build this challenging project in the air, in the middle of a boggy wood.'
The list of those involved is too long to include here but between them they brought the project to completion and produced what the RIBA described as 'a masterly control of form and function, with pinches of references from Borromini, Palladio and Stirling.'
With its wrap around balcony leading to a top deck offering its own sauna and Jacuzzi, The Woodsman's Treehouse is undoubtedly one of the most unique buildings of our time. Kevin McCloud wasn't far wrong when he described it as 'studded with distractions, like a glamorous woodland funfair.'
After a leisurely stroll through the woods, a sauna, a long soak in the Jacuzzi and a pizza from your own personal wood-fired pizza oven, it's hard to believe anything else exists in the world around you.
A squirrel bounces along nearby branches, a train hoots in the distance, and a little closer, one can hear the lowing of a nearby herd of cattle. On the evening of my visit somewhere in the distance someone was celebrating with fireworks—the view from the within the trees was a spectacular bonus.